We invite everyone without exception to celebrate New Year in Lviv with us. Make an early reservation right now!
On New Year's Eve 2021, you will be able to:
enjoy delicious author's dishes from a top chef;
feel like a real archer after passing a test;
look into your future;
receive nice gifts, as well as the main prize for the winner - VIKING;
taste the ancient drink of famous warriors;
watch the enchanting fireworks at midnight;
dance till the morning to great music.
How to celebrate New Year 2021?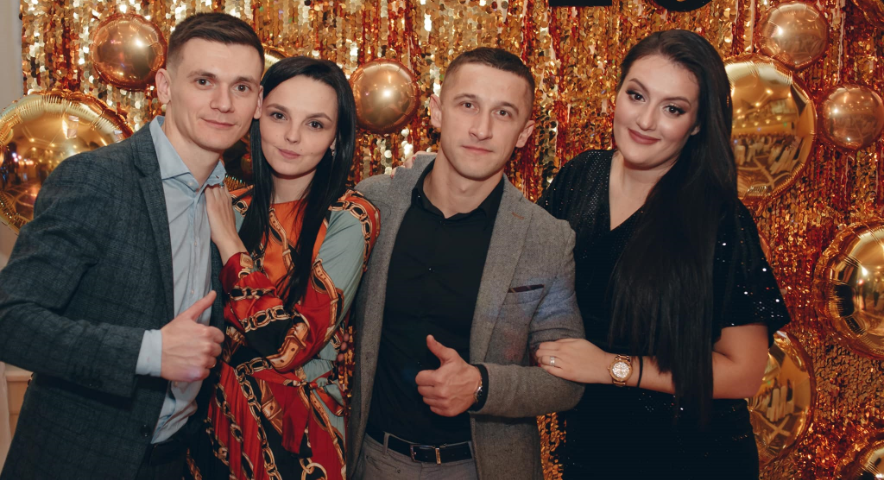 Everyone dreams of meeting New Year in the company of the closest friends, colleagues, relatives, and loved ones. And if this night is organized by the professionals with the use of all the necessary resources, then the celebrations will definitely be stamped in your memory with only positive emotions. So for those who want to meet New Year in an unusual and fun way, we suggest joining the lucky ones who will come to our «Buhta Vikingiv».
We'll make your family fest or corporate party on New Year's Eve truly special.
Creative show program will include:
delicious and exquisite festive dinner;
festive buffet table and lamb roasting outdoors ;
disco;
competitions and tests under the guidance of the host;
skating;
presenting gifts.
An exclusive dish from the chef will be served to the holiday table near the 5-meter-high fire, and our small guests will receive interesting gifts.

New Year in the restaurant of the leisure complex "Buhta Vikingiv"
You won't need to figure out how to spend the New Year's Eve in a restaurant - we organize a celebration at the highest level, taking care of the smallest details. Upon visiting «Buhta Vikingiv»on New Year's Eve 2021, each of you will certainly get positive emotions, pleasant memories, and gifts.
If you wish, after festive night you'll be able to stay in comfortable apartments with heating, all the necessary facilities, and amenities. We'll provide all guests with delicious food, fun entertainment, and attentive professional service. In order not to miss the New Year's celebration in the style of the grand Viking era, contact us now and book your participation in the exquisite banquet at the elegant restaurant of our complex «Buhta Vikingiv».

HOW TO CONTACT WITH US
for individual customers
+ 38 (067) 512 55 55
+ 38 (032) 240 34 28
restaurant
+ 38 (032) 244 44 15
ordering banquets, receptions, weddings
+ 38 (067) 299 29 95
for corporative customers
+ 38 (067) 400 55 55

Email: buhtavikingiv@gmail.com
WHERE TO FIND US
Lisove 14, Stare selo, Lviv region, 79057
12 km from Lviv in the direction of Bibrka, highway H09
GPS coordinates:
49.690310, 24.221993