Preparing a conference hall for a company event is a lot like preparing a home for a reception. Usually, we make every effort to clarify every detail and do our best to keep our guests happy. When it comes to business meetings, you have to face a greater challenge because the future of your business will depend on the organization of the event.
Lviv is considered to be a city with great potential for hosting events. Many companies and universities function here, and they often organize conferences, research and business meetings. Responsible persons are interested in finding the most appropriate place for a particular event.
For example, it is extremely important to understand how many people can be accommodated in a room, where it is located, and how technically equipped the place is. To ensure a maximally comfortable environment for the guests of the event, it is important to consider many more nuances. We will explain what you need to pay attention to.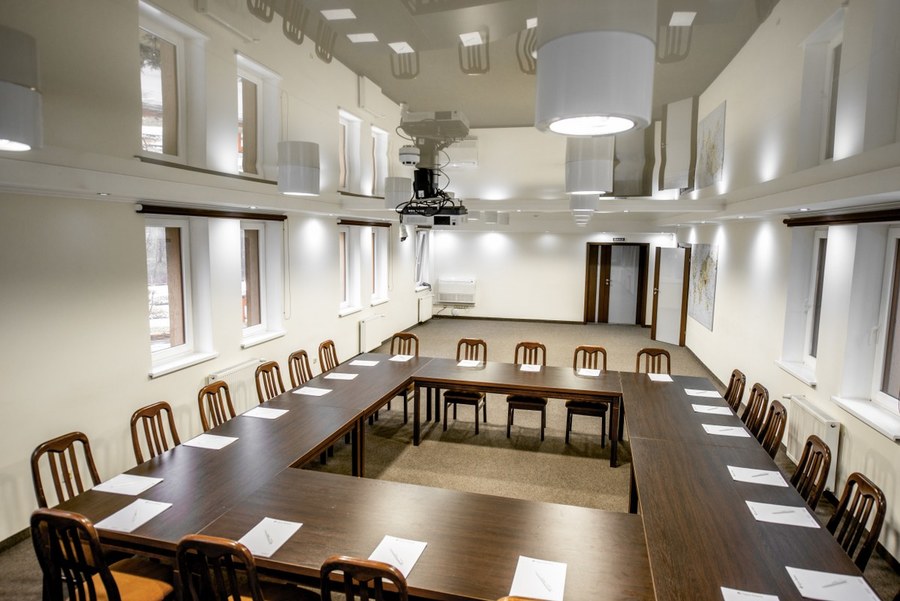 It is very important to make sure that the conference hall is tidy and clean. Any rubbish, stains, dust, shabby walls, and disordered interior elements will make a negative impression. Make sure that the room is cozy and comfortable. The furniture and other elements of the décor of the room must be harmoniously arranged and complement one another.
If there are flowers or potted plants in the meeting room, they should be fresh. It is also important to pay attention to the smell: if it is pleasant, it will certainly have a positive effect on the guests. Don't overdo it with the use of air fresheners so that the atmosphere in the room is not too stuffy. Please also note that guests may have allergies. The conference hall should be well ventilated.
Take care of the necessary equipment. It must be properly connected, ready for use and placed within reach of the training participants. Any setup (of a projector or laptop) takes time during a lecture and doesn't make a good impression. Guests may then think that you are poorly organized.
Where to host a training session in Lviv?
«Buhta Vikingiv»
This is a modern leisure complex, which is located very close to Lviv. There are several conference halls on its territory, each with different capacities. It offers various activities and provides all the necessary conditions for these. The capacity of the halls is from sixteen to four hundred people.
Guests will be able to arrive by private transport and leave it in a special parking area. You can also ask the staff in advance to arrange a transfer to the venue. You can easily arrange meals due to the on-site restaurant and banquet facilities. In the warm season, gazebos are in demand.
The advantage of the leisure complex is that there are many opportunities to have fun after the end of the official part. Workshops or other events can be exhausting, and it's possible to fully recover in «Buhta Vikingiv». This is especially true for those who have come from afar and need to have some rest from the journey. The complex has a hotel, cottages and Hugo lodges, where you can comfortably stay overnight.
At your disposal, there are three well-arranged conference halls. «Corporate» hall can accommodate up to one hundred and twenty people. This is a great solution for business meetings and corporate events. Its area is 90 m², the rental price is 1500 UAH / h or 3500 UAH / day.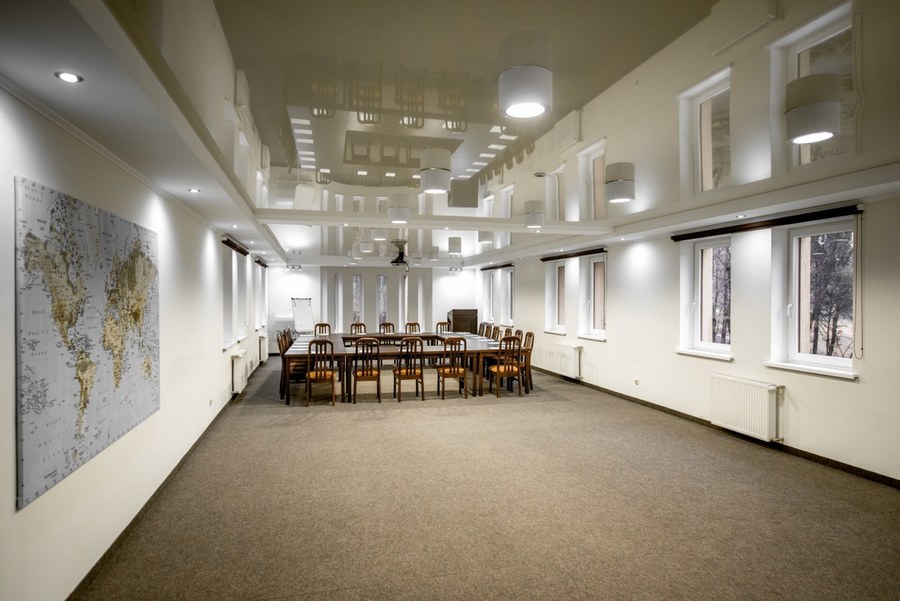 The «Panorama» hall accommodates no more than twenty people. It is ideal for small events of any format. Room size - 25 m². The minimum lease time is two hours. An hour will cost 800 UAH, and if you want to rent a conference room for a day, you'll have to pay 2500 UAH.
For large-scale events, you should choose the «Scandinavian» conference hall. It will comfortably accommodate up to four hundred people. «Buhta Vikingiv» leisure complex will offer the best facilities to host conferences or any other event at a very decent level.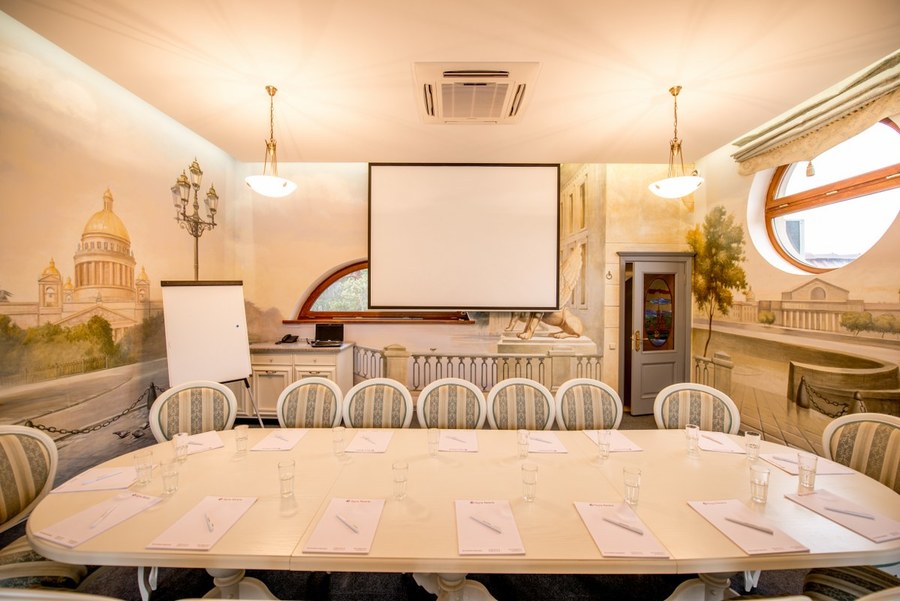 «Rafael»
It is a convenient hotel and restaurant complex located in Lviv. On its territory, there is a conference hall, which can accommodate from forty to one hundred and forty people. It is easy to arrange meals there, as there are several banquet halls on the territory of the complex, which offer delicious dishes of Ukrainian and European cuisine.
Besides the conference room, there is a meeting room for 6-18 people. At Rafael, you'll get high-quality service, modern facilities and the opportunity to stay in hotel rooms. Private transport can be left in a special guarded parking area. Rafael will be a great place for events.
Taurus City
This is a relatively new hotel in Lviv. It has a conference room for 50 seats (if you accommodate people in the «theater» arrangement), 27 seats (if you choose U-shaped arrangement), 30 seats (at a round table), 20 seats (for "classroom" arrangement). Guests can stay at the hotel, which has thirty rooms of different classes. Also, the guests will get a nice view of the city from the hotel windows.
To host seminars or other events, you'll be provided with good equipment. Wi-Fi access will also be provided. Coffee breaks or a business lunch can be arranged during the break. Upon the guests' request, it is possible to serve an evening buffet. Organizers can take care of a full meal for the evening by ordering it at the restaurant. Guests will be able to locate conveniently in the banquet hall.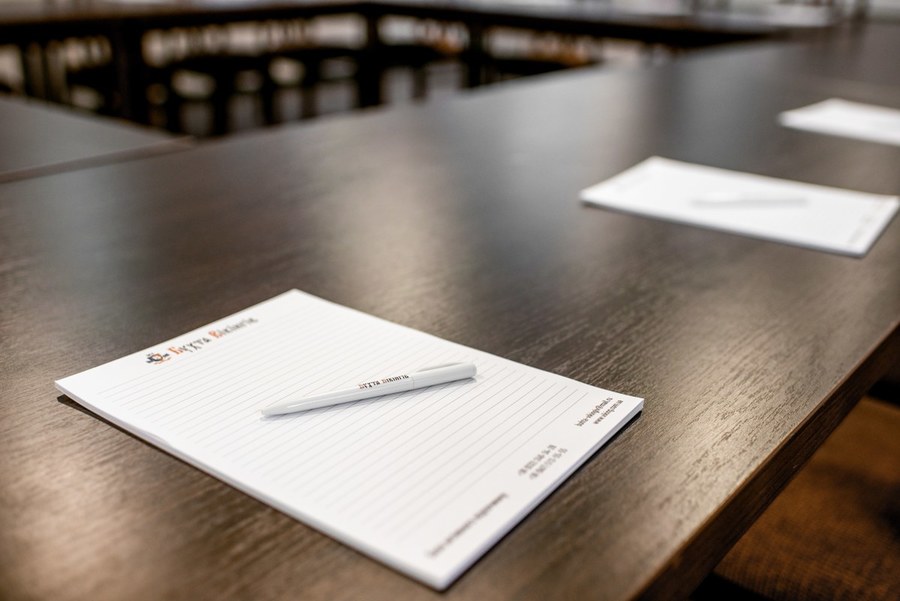 Now you know where to conduct a training or other important event in Lviv and the region. We wish you success in organizing the event. We are convinced that you'll make it!
HOW TO CONTACT WITH US
for individual customers
+ 38 (067) 512 55 55
+ 38 (032) 240 34 28
restaurant
+ 38 (032) 244 44 15
ordering banquets, receptions, weddings
+ 38 (067) 299 29 95
for corporative customers
+ 38 (067) 400 55 55

Email: buhtavikingiv@gmail.com
WHERE TO FIND US
Lisove 14, Stare selo, Lviv region, 79057
12 km from Lviv in the direction of Bibrka, highway H09
GPS coordinates:
49.690310, 24.221993