Lviv residents are accustomed to the fact that it's often raining in the city. So there are very few warm and not rainy days in the summer. When the weather is good, many Lviv dwellers are looking for the opportunity to spend time in nature. In such moments, it is important to decide which place would be best to visit. When there is a real heat outside the window, most prefer to travel to the city outskirts where there is water.
There are about thirty lakes in the Lviv region. But many of them are adapted for convenient fishing. Some of them are industrial sites. Therefore, the number of places where it's safe to swim and relax is actually much smaller. We've picked TOP-10 places near Lviv that you can visit on hot days.
1. «Buhta Vikingiv» Leisure Complex
It has everything to have a good time. Not only will you be able to stay in cozy lodges and cottages or comfortable rooms. You can also arrange a feast at Buhta Vikingiv - organize a celebration at a restaurant, banquet hall or gazebo. The leisure base is located near Lviv - twelve kilometers away. You'll see 3 beautiful lakes in the area. Near the largest one, there's a well equipped sandy beach, which has a shower, toilet, and pier.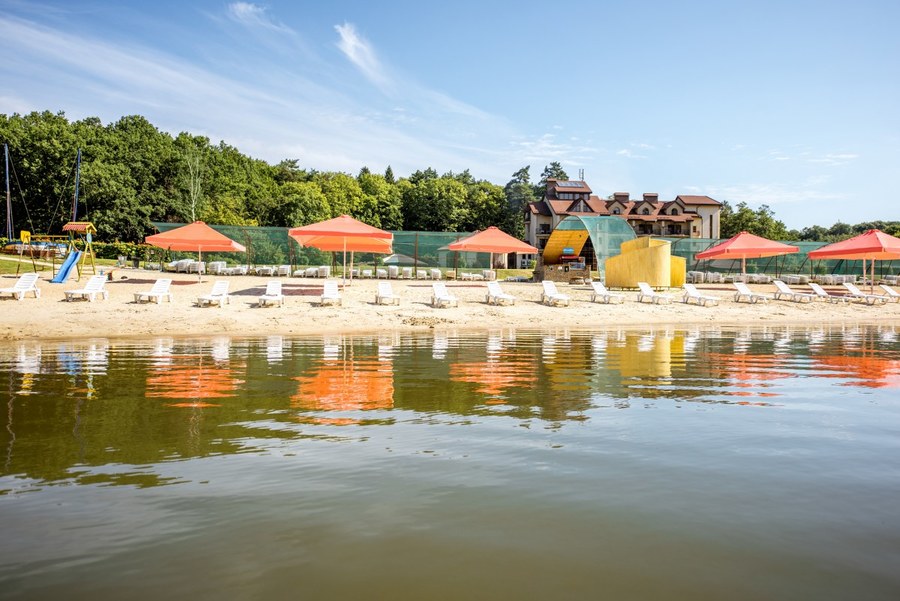 You can come with a group of friends for a day or spend a vacation there. Rent a gazebo and barbecues to roast a delicious shish-kebab. The leisure complex offers a lot of entertainment for both adults and children. You can ride rollerblades, bikes or bicycle cars, rent a small boat or catamaran.
Outdoor activities lovers will enjoy visiting the equestrian club and shooting range. You can also play paintball or play different sports at special venues, such as badminton, football, basketball or volleyball. The best way to reach Buhta Vikingiv is by private transport, and convenient parking is available on site.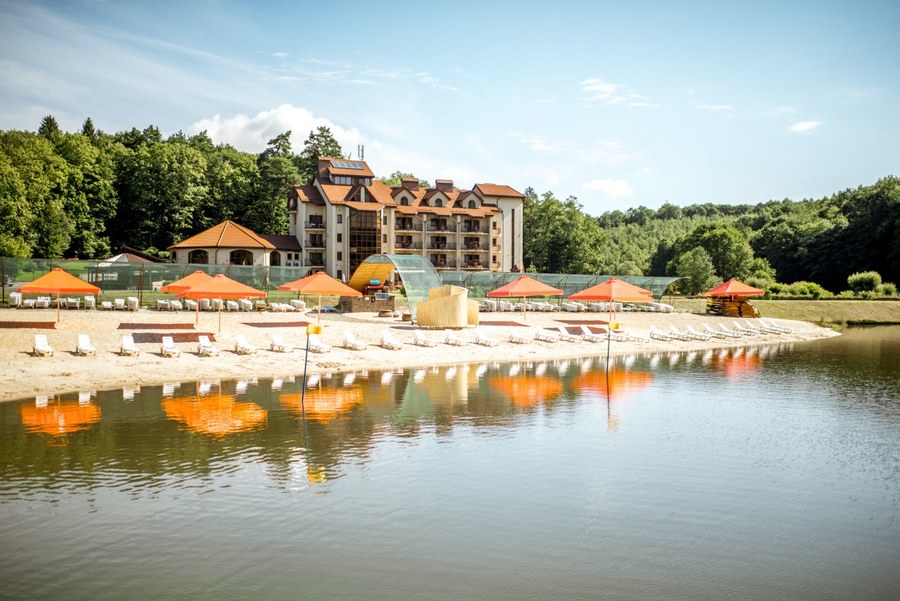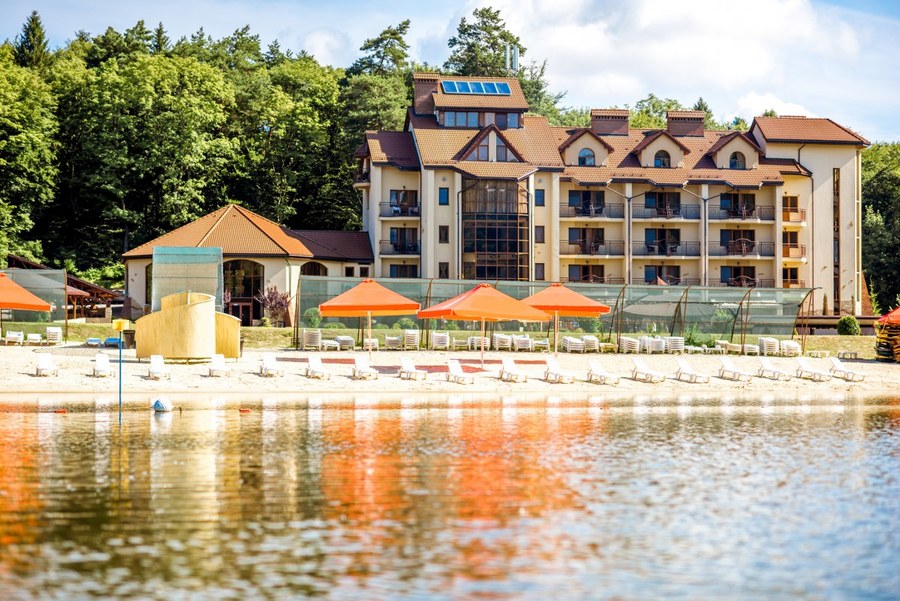 2. Baikal Lake (Zadorozhnie)
Baikal Lake is also called «Zadorozhnie» because this is the name of the train station nearby. It was formed after the Drogovyzh quarry was flooded in the 1970s. The lake is located near the village of Drogovyzh, Mykolaiv district. It is quite large, so there are many privatized areas around it with recreation areas and beaches.
The reservoir was formed right where there used to be a sand quarry. Because of this, the lake abruptly gets very deep just a few meters from the shore. Be sure to keep this in mind, especially if you plan a vacation with your children. If you enjoy extreme activities, then you should go for a ride on water attractions - there are «pills» and «bananas». You can also rent a catamaran and enjoy the view.
You won't find any significant amenities, but at least there is a beach where you can relax or leave your belongings. It takes about half an hour to reach Baikal Lake from Lviv by car. You need to move along the Kyiv-Chop highway towards the city of Stryi. Then take a turn to Drogovyzh village and go straight. Before the railway crossing, turn to the right, and you'll get on the road that leads directly to your destination.
You will have to pay for the entrance to the beach, and you will also be able to rent a cottage near Baikal. If you don't have the opportunity or desire to drive, you should give preference to trains. The first one from Lviv departs at 8:50, and the last one to Lviv departs at 21:36 from the Zadorozhnaya station.
The reservoir has several disadvantages that should be considered. The lake has a rather dangerous depth, so be careful. Buoys on it are quite close to the shore, so in the heat, not everyone will be able to swim comfortably. You'll also have to take a long walk or drive to the nearest store.
3. «Ozernyi Krai» Recreation Base
It is located 12 kilometers from the regional center - in Pustomyty. There are small lakes in Ozernyi Krai: one is for swimming and resting, and the other is for fishing. The first one is small, so in a hot season, not everyone manages to swim there for long enough. A similar description applies to the beach near the lake. It's made of sand and is in high demand among the locals, so at the weekend, it's better to occupy the most convenient places as early as possible.
In the leisure complex, you can not only spend time in nature, bask in the sun and sunbathe. Ozernyi Krai has a restaurant serving delicious food. You can also stay at the hotel overnight and even host a conference or banquet on site. The drawbacks are the small size of the lake and not so pleasant lake bottom that visitors complain about.
You will see Ozernyi Krai very close to «Pustomyty»- the nearest railway station. To get to the base conveniently, take the train that runs in the direction of Stryi or Lavochne. Also, routed taxi buses №141 and №116 course from the lion's city to Pustomyty. Their schedule can be freely found online. However, you'll need to walk a lot from the end station, and getting there will take about an hour by bus. If you have your transport, you'll be able to get to the Ozernyi Krai leisure complex in about half an hour.
4. Murovane Lake
It is located 9 kilometers from the city, near the Galytske intersection. There is a sandy beach near the lake, and the reservoir itself is shallow. Visitors can not only swim but also rent a barbecue (although, without firewood) and a gazebo. You can buy groceries in a store, but it's best to stock up on food in advance so you don't have to go far.
Many people are resting on Murovane Lake in the hot season, so the water gets muddy fairly quickly. If you drive to the lake in your car, the road will take about 10 minutes (from the Galytske intersection). You will also be able to reach the destination by bus №9 and №114. To get closer to the lake, it's better to get off the bus at Lʹvivsʹka Tets -2 stop.
Where to go to the lake in Lviv?
We bring to your attention 5 more places in the Lviv region where you can have a good rest near the water.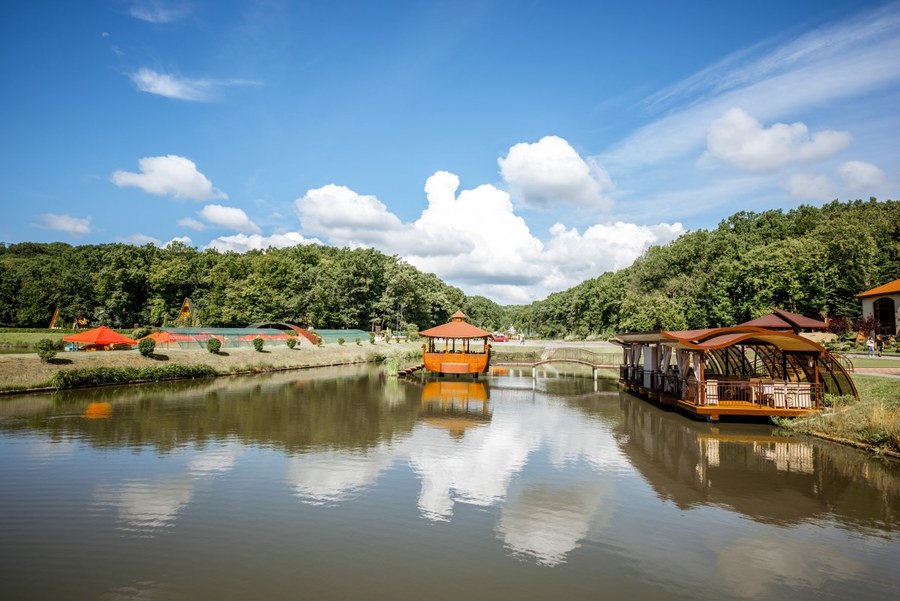 5. «Lvivska Shveitsariya» Recreation Base
Lviv dwellers like to come to this convenient place. The base is considered to be a sports and wellness center. It is located in David village near the ring road to Kyiv. On the territory of Lvivska Shveitsariya, there is a small sandy beach with a grassy meadow behind it. The visitors often photograph local landscapes from a small bridge across the lake.
The water is somewhat greenish and is rather muddy, which can put many people off. However, the results of the sanitary-epidemiological station check indicate that it's safe for swimming. The recreation center is well-equipped for a vacation with children. On its territory, there is a special entertaining area for kids.
Anyone interested can rent a gazebo and barbecues or swim in a boat. Those who want to relax by the lake for as long as possible and enjoy the scenery, usually stay at a hotel near the pond. It's best to get to Lvivska Shveitsariya in your car. It will take you about 15 minutes to get there from Lviv. On the territory of the base, there are parking spaces for cars; however, they are paid.
You can take a routed taxi bus №160 from the city to Davydiv. It runs every hour and leaves from the Shota Rustaveli bus stop. Please note that if you choose this method, you will have to walk about 2 kilometers from the bus stop in David to Lvivska Shveitsariya.
6. Bryukhovytske Lake
This lake is one of the most popular recreation places among those who like to relax on a budget. It is located in Briukhovychi village near Lviv. There is almost no sand in the area near the pond, so you'll have to lie down and sunbathe on the grass. The lake is quite small and its depth barely reaches two meters.
You can book gazebos as well as deck chairs with umbrellas. In the summer, you can buy ice cream or a cold beer at the bar near the pond. If you want to have a proper lunch, be ready to walk for a long time: the nearest food establishment is quite far away.
It's best to drive to Bryukhovytske Lake by car. The road from the Lviv city center will take approximately 20 minutes. Alternatively, you may give preference to public transport. Routed taxi buses №22, №8, №144 run every half an hour. Take the stop near Kolyba, then turn left and follow the directions.
If you wish to enter the territory of Bryukhovytske Lake, you will have to pay, but the amount is insignificant. Not everyone likes a rest on the grass, so going there may be frustrating for some people. There are also no entertainment facilities near the pond. You won't be able to rent boats and catamarans or ride any water attractions.
7. «Sherwood» Hotel and Recreation Complex
It's located in a picturesque area in the middle of the woods near Lviv - outside Gorodok. It will be very convenient to stay in a small hotel to fully relax and recharge. There is a lake near the complex, where you can not only swim but also organize fishing. Also, their restaurant serves very delicious cuisine. There are gazebos near it, where you can enjoy your favorite meals while out in nature with your family and friends.
«Sherwood» gazebos are considered a part of the restaurant, so you cannot bring your food there. Meals must be ordered at the restaurant - keep this in mind in advance. The owners of the hotel and recreation complex made the entrance to the lake free of charge. But you can't just come here and sunbathe on your towels. And if you want to use a «Sherwood» towel or deck chair, you will have to pay extra for them. You'll also need to pay for a separate deck chair for a child.
If you get to the hotel and holiday complex in your car, move in the direction of Mostyska. After Rodatychi village, turn left. You can also get to "Sherwood" by routed taxi buses running from Zahidna bus station on Gorodotska Street.
8. «Vereshchytsya» Recreation Base
It is located near Lviv in the park in Yavoriv. Near the base, there is a beautiful forest and a lake with a sandy beach. On its territory, you can relax at tables and in gazebos. Usually, people rent them with a barbecue. Keep in mind that the firewood is not provided - you must bring everything in advance.
Paid car parking is provided, so it's best to get there with your transport if possible. When you pass Ivano-Frankivsk, drive 6 kilometers more and turn to the right. Then drive another 7 kilometers to the very base «Vereshchytsya». Also, routed taxi buses to Vereshchytsya run in almost an hour interval from the bus station №4 in Lviv.
9. Yasynskyi Quarry
It is located 19 km away from Lviv - in Yasynska village. This quarry is used to extract sand from it. Therefore, it's difficult to say for sure what the bottom is like and what is the maximum depth here. Officially, it is forbidden to swim in the career, but it is considered one of the favorite places for many residents of Lviv and its suburbs.
There have occurred some tragic cases in the quarry. So be careful and think twice whether you really need to go there if there are plenty of alternative places to choose from. Remember that you are responsible for your safety.
There is no beach near the quarry, so you won't be able to rent a deck chair or get any other amenities. But there is no visit fee. If you wish to drive to Yasinskyi Quarry by car, you need to go via Bryukhovychi. When you pass Birky village, turn left in a few kilometers in the direction of Yasynska. The destination is to the right at the end of the village.
The best recreation near the water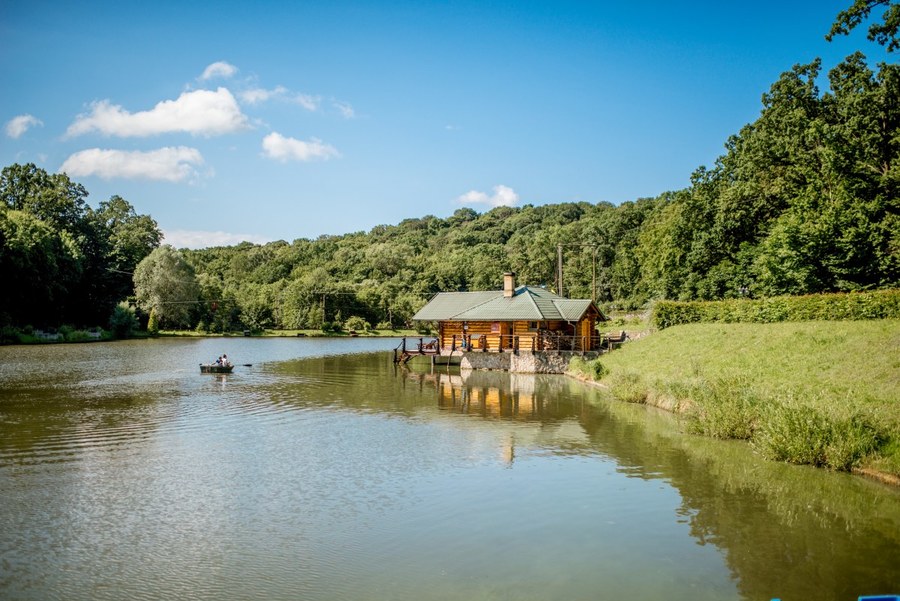 We have shared with you the TOP 10 places where you can spend time near Lviv. These are lakes, quarries, and entire leisure complexes. If you want to get a truly unforgettable experience and make your vacation as comfortable as possible, it's best to give preference to a place that ranks first in the rating. Buhta Vikingiv Leisure Complex will give you every opportunity to relax and have a great time. We are waiting for you!
HOW TO CONTACT WITH US
for individual customers
+ 38 (067) 512 55 55
+ 38 (032) 240 34 28
restaurant
+ 38 (032) 244 44 15
ordering banquets, receptions, weddings
+ 38 (067) 299 29 95
for corporative customers
+ 38 (067) 400 55 55

Email: buhtavikingiv@gmail.com
WHERE TO FIND US
Lisove 14, Stare selo, Lviv region, 79057
12 km from Lviv in the direction of Bibrka, highway H09
GPS coordinates:
49.690310, 24.221993