Everyone feels the need to release emotions from time to time through some form of non-standard entertainment. A great solution is to visit the shooting range. There are several places in Lviv and the region where you can shoot at a target for your pleasure.
This is great entertainment for all fans of action movies and those who want to explore the unknown. For men, it's going to be an opportunity to demonstrate their courage. Women who like to break stereotypes and take initiative will also appreciate the opportunity to shoot.
You'll have a variety of different caliber weapons to choose from. And you'll definitely feel an unforgettable adrenaline rush if you decide to spend time in a shooting range. Choose a weapon for yourself, aim at it and experience especially strong emotions. You will learn how to concentrate and control your nerves.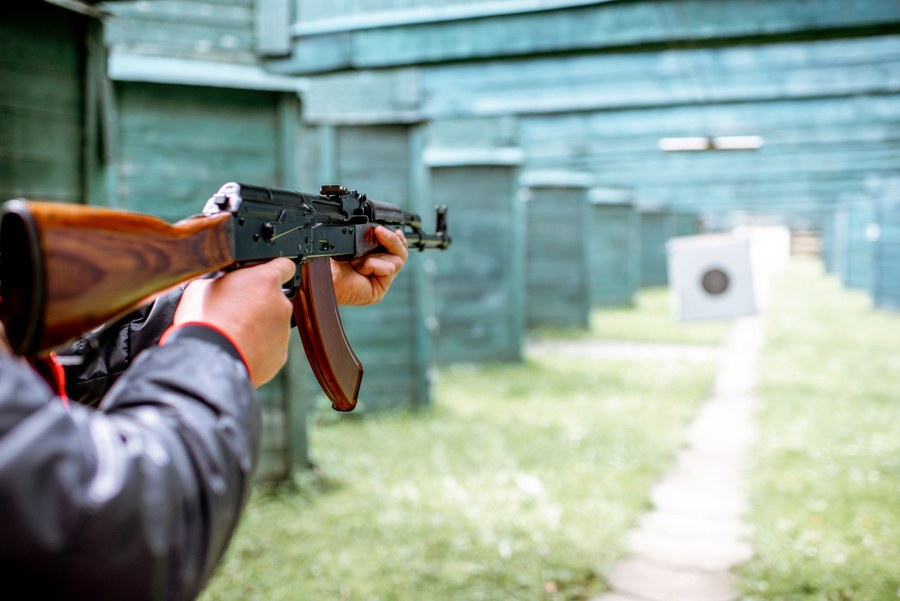 Many of us enjoyed shooting from toy guns as small kids. We grow older, but entertainment remains, although it becomes more serious. Now, real weapons are used instead of toys. If you like this format of recreation, you should find places where you can shoot. You can visit the shooting club in Lviv or the leisure complex Buhta Vikingiv, which is located near the city.
The complex has a modern shooting range. There are targets for shooting from real guns. It's important to comply with special rules in the territory for safe use of weapons. You will learn how to properly hold the gun and use it as effectively as possible, as well as what's a better way to pull the trigger. Buhta Vikingiv staff will help you navigate and answer your questions.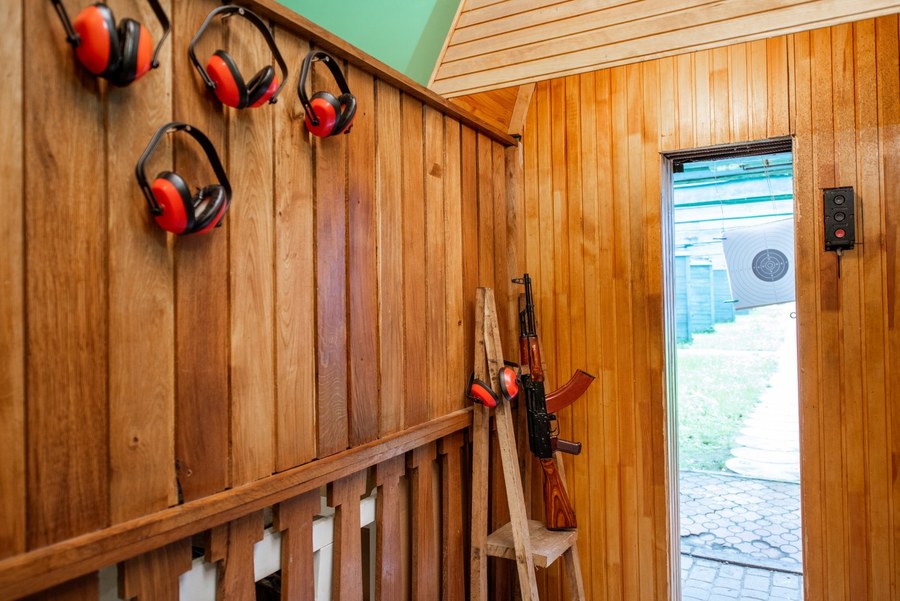 When shooting from a gun or AK-47, you'll experience a lot of emotions. It's a great opportunity to get new experiences and even undergo some psychological therapy because shooting will release negative emotions and help you release stress. In addition to the usual targets, visitors to the leisure complex will see plates. By shooting them, you can spice up the process and make it more interesting.
Shooting is an extreme entertainment that allows you to check your vision, your movements, your physical strength, and your reaction speed. Both beginners and those who already have some experience will enjoy shooting plates. Professional weapons and plates will allow you to feel a new range of emotions and recharge with adrenaline.
The shooting range is worth visiting for both professionals and beginners. Instructors will advise you on how to shoot or improve your skills if you already have some experience. The leisure complex is waiting for you - call your family and friends to keep you a company. It's also an interesting corporate leisure activity. You'll learn how to shoot targets with different firearms. Thanks to the instructors at Buhta Vikingiv, you can master your shooting game.
Where can you shoot a firearm?
In addition to the Buhta Vikingiv leisure complex, you can do it at the Lviv Shooting Club. It has existed for over 10 years and is located in Lviv. The club aims to popularize firearms and promote its responsible and safe use.
There are five firing positions, each having an easy target control. Since the targets are movable, they can be placed at the desired distance (up to fifty meters). It's possible to shoot weapons of a different caliber. Dynamic targets can move quickly, and this is a great opportunity to see how tight is your arm and check how precise is your vision.
To test your skills, it's not necessary to use a shooting range weapon. You can take your own weapon if you have an opportunity and desire. The shooting range itself has more than thirty weapons, including pistols, carbines, rifles, shotguns, and airguns. You can also choose a target based on the type of weapon and your preferences - military, sports, special forces, hunting or the one that is designed for pneumatic weapons.
Club instructors have considerable shooting experience. They take into account the peculiarities of the weapon and set the scopes using cold aiming and with a minimum loss of bullets. You will be able to learn new techniques and methods to shoot quickly, as well as model the situations where you can legitimately use weapons for self-defense.
Check your weapons and try to shoot from a collimator or optic scope. Since the whole staff of the club is qualified, they regularly hold different workshops. You can attend them together with a group or book a custom one. The club is a frequent location for corporate parties as it's a great opportunity to hold small competitions. It's an opportunity to have fun and develop useful skills.
If you wish, you can enroll in a general shooting course where you can study the material side of special tools and weapons. You will learn how to properly handle and use a weapon. Upon completion of the course, students will receive a corresponding certificate, which is required to obtain a permit to purchase a weapon.
Where to shoot a bow and a crossbow?
The Buhta Vikingiv leisure complex invites everyone to shoot not only a pistol, an AK-47, or an airgun. At your disposal, there are also a bow and crossbow. You'll feel as if you travel back in time to the period when using such weapons was customary. Aim carefully and focus on the target to become a skilled shooter.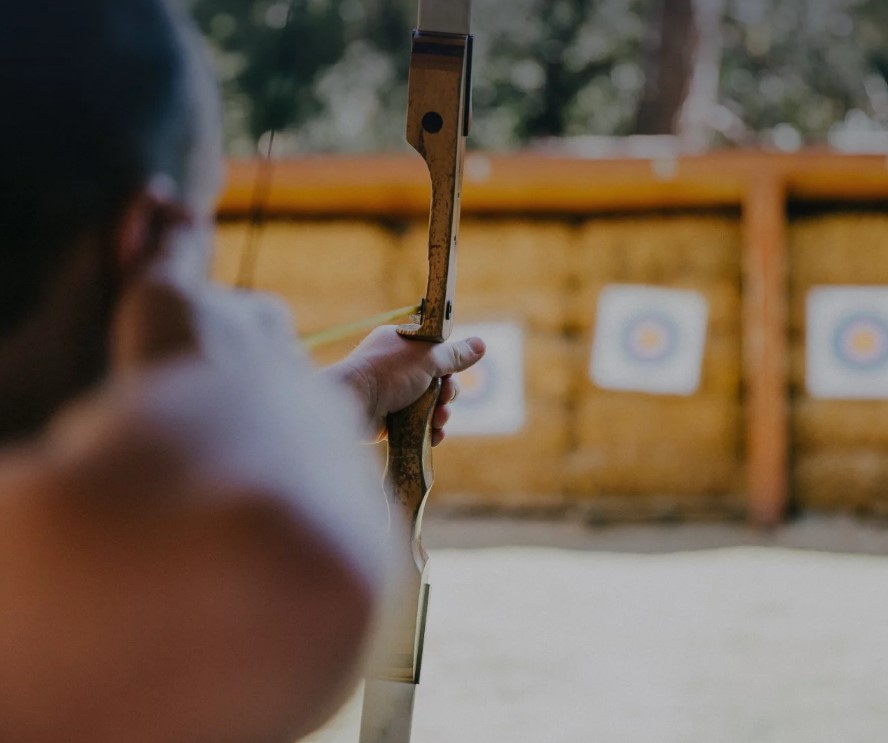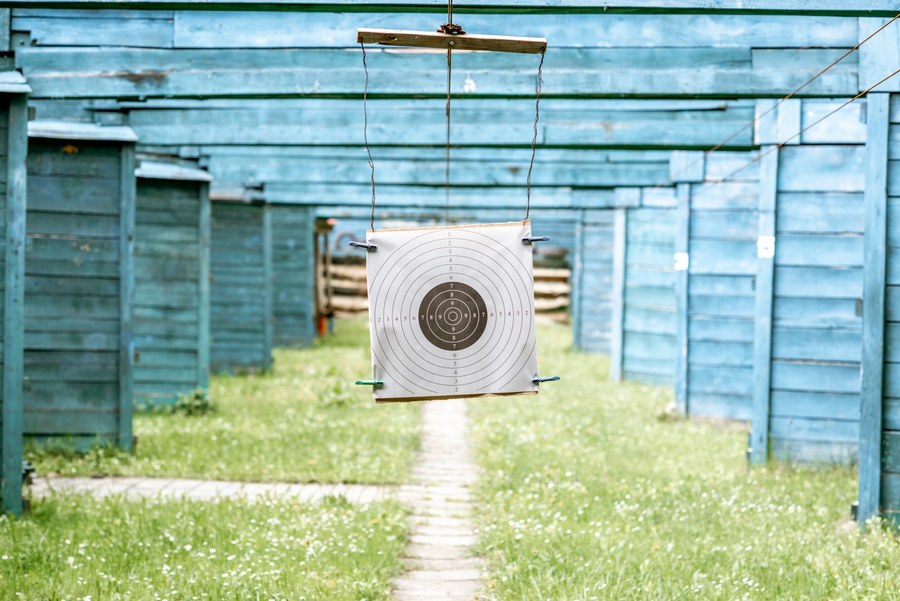 Many people enjoy this unusual recreation format. Invite the loved ones to compete with you and hit the target as accurately as possible. Such entertainment will give many wonderful emotions. Visiting the shooting range at Buhta Vikingiv is absolutely worth it if you want to feel like a skilled archer. Visit the suburbs of Lviv at any time you like. The recreation base team will be waiting for guests to ensure an unforgettable stay.
HOW TO CONTACT WITH US
for individual customers
+ 38 (067) 512 55 55
+ 38 (032) 240 34 28
restaurant
+ 38 (032) 244 44 15
ordering banquets, receptions, weddings
+ 38 (067) 299 29 95
for corporative customers
+ 38 (067) 400 55 55

Email: buhtavikingiv@gmail.com
WHERE TO FIND US
Lisove 14, Stare selo, Lviv region, 79057
12 km from Lviv in the direction of Bibrka, highway H09
GPS coordinates:
49.690310, 24.221993