Lviv residents often get tired of the hustle and bustle of the city and they want to escape to somewhere quiet and peaceful on weekends. Many just want to bring a little variety to boring and monotonous weekdays. To experience positive emotions during your time off, you need to find a good place to go for the weekend.
We've put together some interesting locations that are worth considering. That's where you can have fun both alone and with the company. A trip to these places should only give you pleasant emotions, so look for the opportunity to get out of town as soon as possible.
Buhta Vikingiv
This is the perfect place for a family vacation, hanging out with friends or having some alone time. Moreover, various events are often organized there: conferences, training sessions, seminars, corporate events, and also birthdays or weddings. Buhta Vikingiv services are in high demand throughout all seasons, not only among Lviv residents but also guests from nearby cities.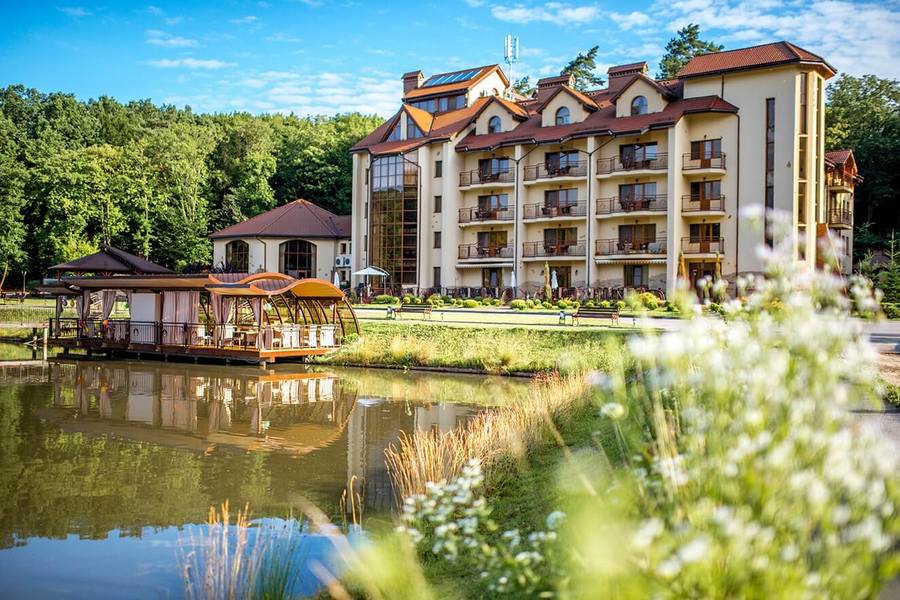 The territory of the complex is 12 hectares. There are two lakes, a rope park, sports grounds, a shooting range, a spa, and an equestrian club. There are over half a hundred entertainments in total. Food is provided for you in the restaurant or banquet halls.
The afternoon in the warm weather is a perfect time for relaxing on the beach, swimming, and fishing in the ponds, as well as having a small party with friends in the gazebo. For overnight stays, you can comfortably accommodate in a hotel, cottage or Huge lodge. The complex has a variety of great deals with nice bonuses for guests.
Buhta Vikingiv is located near Lviv. It's a great place to have a good time for both children and adults. That's because everyone is sure to find entertainment to their liking - regardless of the time of stay or the season. You can come there for a few hours, as well as on weekends or vacations.
So if you are planning a weekend near Lviv in the winter, choosing a place where to spend it's not a difficult question for you. Buhta Vikingiv staff will greet you with a smile and create the most favorable conditions for you and your loved ones in any season to make sure you have a really special holiday.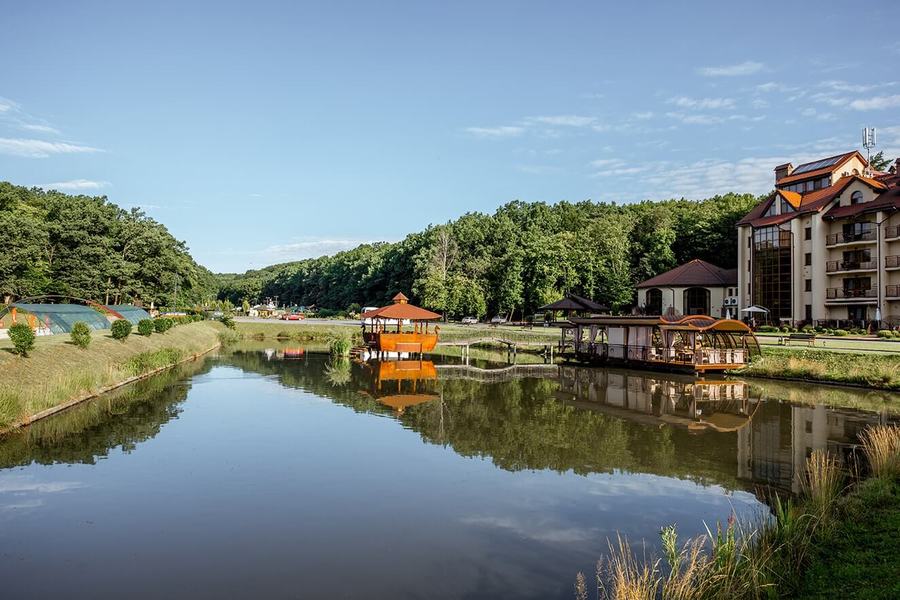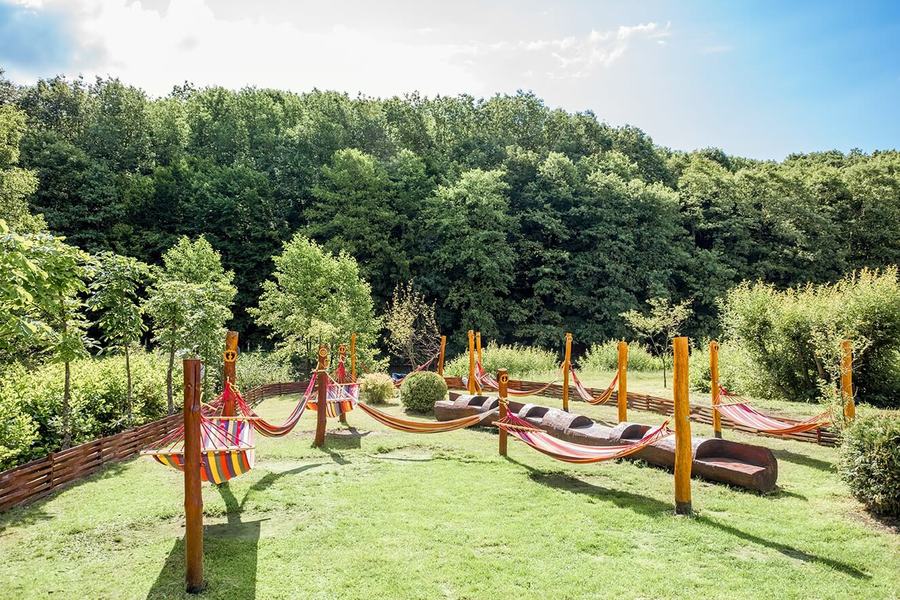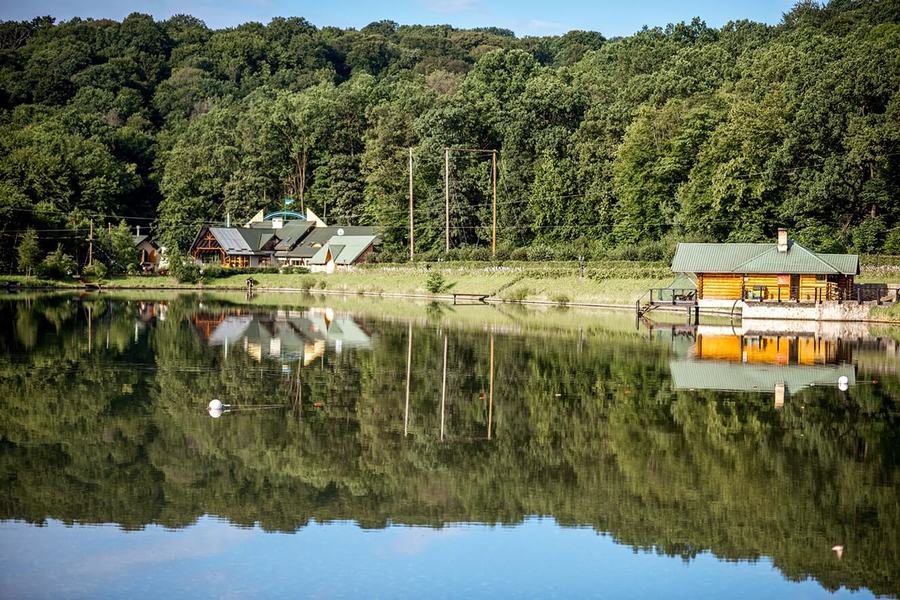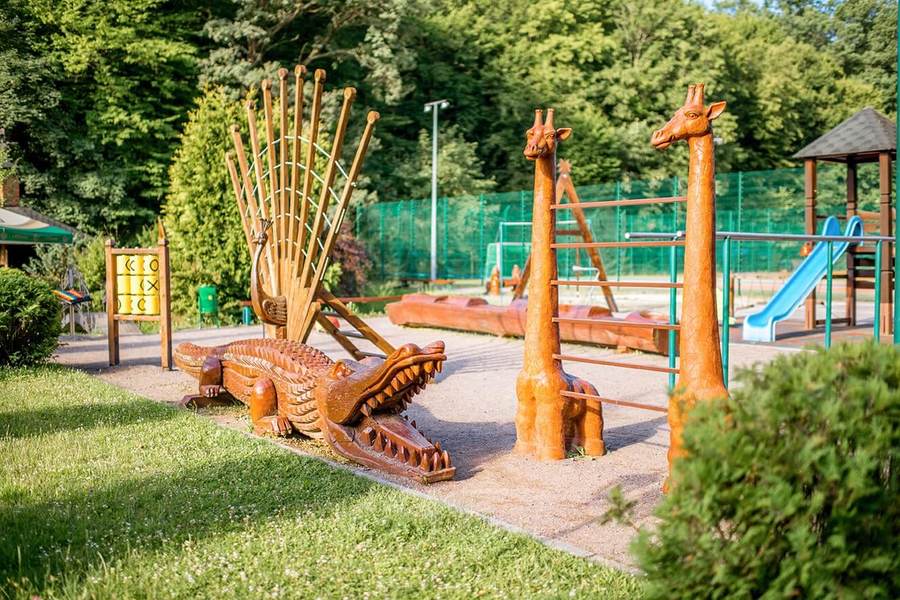 Mount Parashka
This is a quite famous mountain in the Carpathians, you can see Lviv from its top. It's located about one hundred kilometers from the regional center. Overall, the Carpathian Mountains attract many travelers and tourists. When it's sunny in Lviv, residents of the city can see the peaks of the famous Skole Beskids. The highest of them is mount Parashka. Its height is 1268 meters. It's very convenient to observe the picturesque panorama from the top. The nature gets especially beautiful here in the mornings when the lowland is covered with white thick fog. It's possible to start climbing the mountain from several sides of the ridge: either from the town of Skole or from the village Korchin. A paved path will lead you to the top. Not too far from the village, you'll see a beautiful waterfall called Gurkalo.
You can get to these two settlements by bus. They run from the bus station on Stryiska street. There are also trains from Lviv. You'll need to travel to Korchin from Skole by taking the bus. You can make on-site transfer arrangements with private carriers for you or your company.
If you want to get there in your car, then go to Skole from Lviv. One day should be enough for you to conquer the mount Parashka if you've planned a trip for the summer. There are many tourist attraction sites near Skole, which is a great reason to spend there a few more days. You can stay in private estates and local hotels.
Truskavets
It's a city in the Lviv region which is known for its unique mineral water springs. Their properties are believed to be curative, so people come to Truskavets not only from all over Ukraine but also from other countries. The city is considered a health resort. It's located in the foothills of the famous Carpathians (about 100 kilometers away from Lviv).
The first balneology establishments appeared more than a century ago. Even then, people felt the effects of various water treatments. The most famous Truskavets water is called "Naftusia". Overall, you can try different types of mineral water in the town, which differ in composition and taste. Before drinking it or undergoing any procedures, you must consult a doctor.
If you decide to stay at a health resort, the specialists must check up on your health and assign you an individual treatment course. There are many establishments in Truskavets where you can relax, heal, and simply improve your health and undergo preventative treatment. You'll also find plenty of entertainment in the town.
It's easy to reach the resort by bus, which departs from the main Lviv bus station. Also, there are several trains. If you choose to travel by car, take the T1416, T1402 routes. Usually, one day is enough to get acquainted with the city and taste different kinds of water. But if you want to get the most of your stay in Truskavets, use the services of local hotels or villas and stay there for longer.
Dobromyl Castle
The building is considered to be the highest among those known in the Lviv region. Dobromyl is a pretty nice town in the mountains. It's located near the border with Poland. A combination of magnificent landscapes with the exterior of an ancient castle makes a lasting impression on tourists. Such a view is worth visiting whenever you make time for it, for example, on some weekend.
The castle is not quite near Lviv because the distance between Dobromyl and the regional center is just over a hundred kilometers. The town is famous for its history, the mentions of it are found from time to time in the works of various writers. Also, the Slipa Mountain with a famous Herburt Castle is located four kilometers from Dobromyl. It's considered a landmark of sixteenth-century architecture.
In the middle of the 15th century, there was a wooden castle in the place of a current building. It was rebuilt later into a stone fortress intended for defense but it hasn't been preserved to date. So now tourists can only observe the ruins of a building that stood the test of time. It's a gate, a wall, a tower, and a well.
The fortress is considered to be the tallest and farthest building from Lviv in the entire region. If you arrive there in good weather, you'll probably be able to see Przemysl and Sambir from there. To get from Lviv to Dobromyl, you can take the bus. Also, you can reach there by train. Get to Old Sambir and transfer to the bus that goes directly to Dobromyl.
Kamianka Waterfall
When the first heat comes, residents of Lviv want to get somewhere closer to the water. And even if you can't swim, it's such a pleasure to stay by the water, enjoy the noise of mountain rivers and wet your feet in cold crystal water. And for what it's worth, the mere coolness of the fragrant pine forest and the scenery of the mountain ranges makes the time spent there truly unforgettable.
Have you imagined that? You can see and feel this beautiful combination at the Kamianka waterfall. It belongs to the National Nature Park. The waterfall in Skole Beskids was formed by the river rapids near Kamianka village in the Lviv region. It is one-cascade, with a total height of more than seven meters.
The nature near the waterfall is spectacular, with stunning panoramic views of the mountains and rocky cliffs. Nearby is a lawn where it's possible to set up tents and build a fire. Take a snack with you for a picnic. Although one day is enough to admire the waterfall and explore the surroundings, you can stay at a local hotel or private residence if you wish.
You can conveniently get to Kamianka from Lviv by bus, which runs through Stryi. You should go off in this town to take another bus to the village. You can also get off the bus in Skole and walk a couple of kilometers. If it's more convenient for you to get there by car, start your trip from Lviv by choosing the E50 / E471 / M06 route. You need to get to the village Dubyna, then turn left, and the road will lead directly to the waterfall.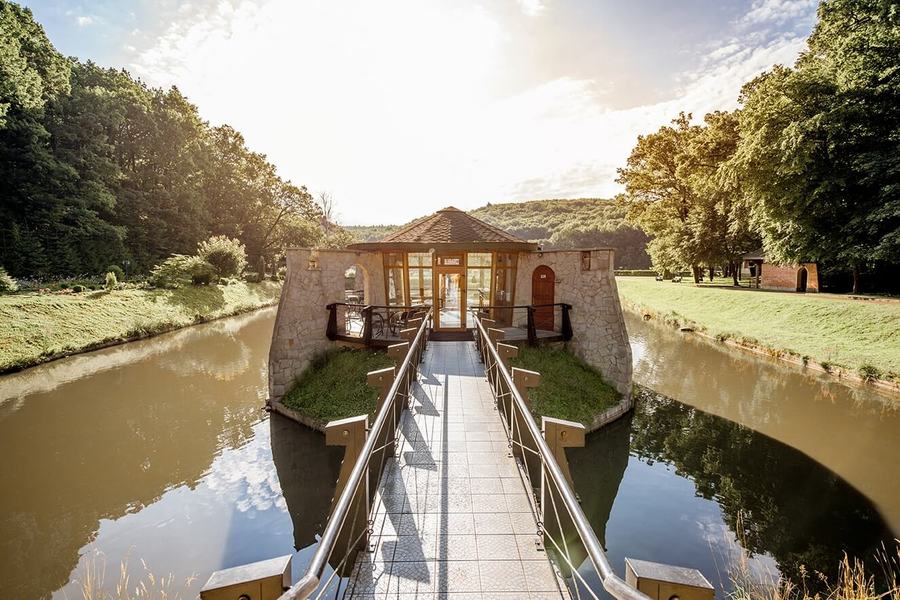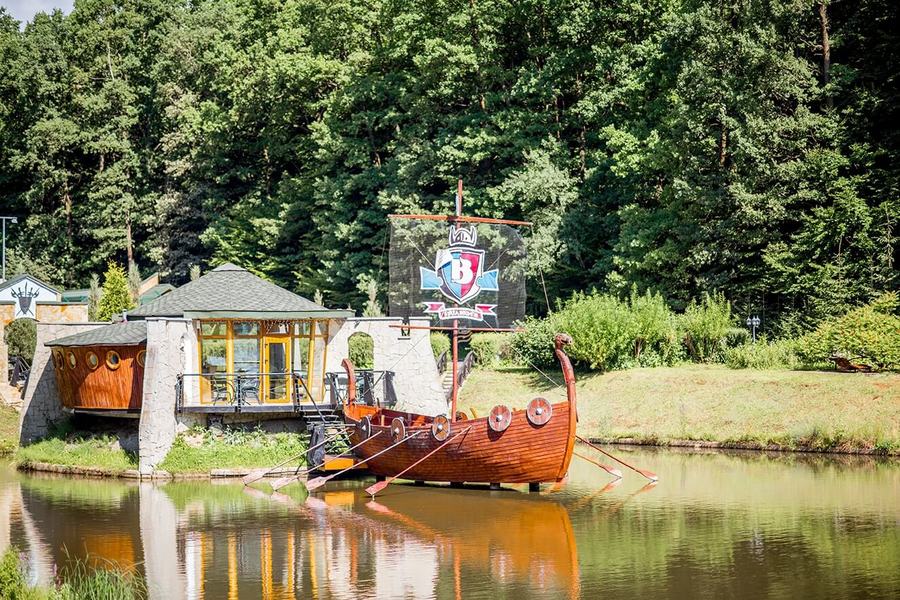 Now you know at least five places outside Lviv which you definitely need to visit. You can change your location to a new one every day. This way, you'll be able to discover the picturesque Lviv region an unforgettable vacation for yourself, your family and friends.
HOW TO CONTACT WITH US
for individual customers
+ 38 (067) 512 55 55
+ 38 (032) 240 34 28
restaurant
+ 38 (032) 244 44 15
ordering banquets, receptions, weddings
+ 38 (067) 299 29 95
for corporative customers
+ 38 (067) 400 55 55

Email: buhtavikingiv@gmail.com
WHERE TO FIND US
Lisove 14, Stare selo, Lviv region, 79057
12 km from Lviv in the direction of Bibrka, highway H09
GPS coordinates:
49.690310, 24.221993